A dynamic display ad that took data from the eBay Motors API and displayed said data using the Yahoo Maps API.  Geotargeting was used in ad trafficking, allowing the map to initialize at the user's approximate location.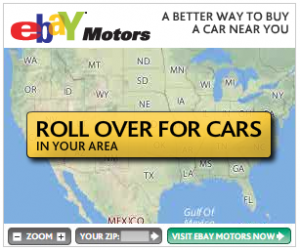 + System architecture
+ public & private API integration
+ Flash development
This entry was posted on Saturday, December 8th, 2007 at 18:32. It is filed under Uncategorized. You can follow any responses to this entry through the RSS 2.0 feed.