Microsite created for Lexar SD card products.  Utilized Flash's 3D capabilities and runtime asset loading.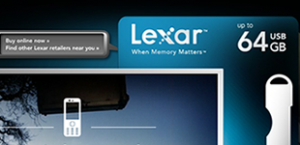 Link to archived site here.
+ Flash development
+ System architecture
This entry was posted on Tuesday, June 8th, 2010 at 16:46. It is filed under Freelance, Portfolio, Showcase, Work and tagged with AS3, Flash, Freelance, Invalid Sequence Labs, Lexar, microsites. You can follow any responses to this entry through the RSS 2.0 feed.